Lab Simulations: Class II Amalgam Cavity & Filling
This content is only available to members.

Please sign in, or register.


Educational aims of this juce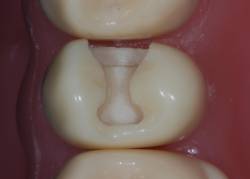 This page aims to show you how to pass a common competency test, involving cutting and filling a premolar Class II cavity.

There is a video of the cavity preparation on a plastic tooth.

There is a step-by-step picture series, with instructions, that shows how to achieve a perfect result.
This page contains verifiable CE / CPD
---
How much does dentaljuce membership cost?
12 months subscription to the whole site costs just £79 GBP
International payment in your own currency with PayPal
200+ hours of verifiable CPD / CE. No extra payments.






Member comments:

Really good, very user friendly and practical. (JW)
It has to be the best value CPD around, and probably the most useful. Many thanks.(WK)
Very impressed - keep being interrupted by patients turning up! (PW)
I couldn't manage now without Dentaljuce. (AH - BDS Student)
Well good, detail excellent, very clear to use (JM)
Very good material. Brilliant for CPD. (PC)
Excellent step by step guides and photos (SR)
Taking ORE soon - this site is soooooo useful (AK)
Excellent layout, great photos (PM)
I cannot believe how brilliant this site is. I have passed Part 1 of the MJDF exam, and it will help so much for my Part 2. The animations, videos and content in general is just brilliant. Thank you. (DI)
This is the Catherine Deneuve of online dentisty. (MF)
I have to say dentaljuce gets better each time I look. (PP)
This website is so great, I have been telling so many people. Fantastic. (DY)
Thought provoking, and good reminder of what we should know. (FC)
Concise and reflective
Excellent content clearly explained
Wow. I actually understand occlusion now, thank you so much. I saw those BDJ articles years ago when newly qualified and I didn't understand any of it. It is all so much more understandable now, thank you. (TD)
Brilliant videos, thank you. (WS)
Tags
15mm
3040mm
541
90ã'â°
access
achieve
adjacent
against
amalgam
anatomy
angle
angles
another
assessment
band
below
buccal
bur
burs
carver
cavity
cervical
cervicobuccally
check
class
clear
color=#444
common
competency
completed
condensation
contact
contour
converge
corners
cup
cusp
cut
depth
diamond
direct
distal
dovetail
enamel
ensure
excess
facilitate
filling
finish
finishing
fissure
flat
floor
hand
hatchet
hollenback
inside
instruments
isthmus
just
keep
keeping
lab
lock
margin
marginal
matrix
meet
mesial
midline
note
occlusal
occlusally
outline
pack
page=#fff
palatal
picture
pits
place
plastic
point
position
premolar
preparation
prevent
proximal
remove
restorations
restore
result
reveal
ridge
round
rounded
series
shape
simulations
slopes
smooth
straight
supragingival
surface
test
tests
tooth
trimmer
upright
video
walls
wards
wedge
wide
ã¢â'¬â¢
ã¢â'¬â€œ