Lab Simulations
3/4 Gold Crown Prep. Upper 1st Premolar
This page has been copied from the Indirect Restorations section.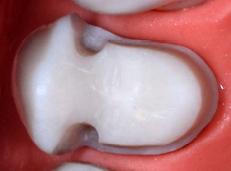 Three-quarter crowns were originally devised to preserve the buccal enamel of a tooth that required a crown, for aesthetic purposes. The advent of ceramics in dentistry has largely solved the aesthetic crown problem, but they are still useful as a way to conserve tooth tissue.
They remain one of the most technically challenging procedures in operative dentistry.
Slide show: 3/4 Gold Crown Prep.

Educational aims of this juce


This page aims to show how to prepare an upper pre-molar to receive a 3/4 Gold Crown.

There is a step-by-step picture series that shows how to undertake this procedure.

Instructions are given for each stage of the procedure.
This page contains verifiable CE / CPD
---
How much does dentaljuce membership cost?
12 months subscription to the whole site costs just £79 GBP
International payment in your own currency with PayPal
200+ hours of verifiable CPD / CE. No extra payments.






Member comments:

Really good, very user friendly and practical. (JW)
It has to be the best value CPD around, and probably the most useful. Many thanks.(WK)
Very impressed - keep being interrupted by patients turning up! (PW)
I couldn't manage now without Dentaljuce. (AH - BDS Student)
Well good, detail excellent, very clear to use (JM)
Very good material. Brilliant for CPD. (PC)
Excellent step by step guides and photos (SR)
Taking ORE soon - this site is soooooo useful (AK)
Excellent layout, great photos (PM)
I cannot believe how brilliant this site is. I have passed Part 1 of the MJDF exam, and it will help so much for my Part 2. The animations, videos and content in general is just brilliant. Thank you. (DI)
This is the Catherine Deneuve of online dentisty. (MF)
I have to say dentaljuce gets better each time I look. (PP)
This website is so great, I have been telling so many people. Fantastic. (DY)
Thought provoking, and good reminder of what we should know. (FC)
Concise and reflective
Excellent content clearly explained
Wow. I actually understand occlusion now, thank you so much. I saw those BDJ articles years ago when newly qualified and I didn't understand any of it. It is all so much more understandable now, thank you. (TD)
Brilliant videos, thank you. (WS)
Tags
1st
aesthetic
crown
dentistry
gold
lab
premolar
prep
procedure
simulations
slideshow
tooth
upper