Disease course and testing

Covid-19
Disease course and testing
The course of the disease
Understanding the course of covid-19 is essential for planning public health measures to tackle it, including designing isolation strategies for those who have the disease, those who have had contact, and whole-population isolation strategies. Contacts may not become infected, may not show any symptoms, or may become ill.
Infection. Immediate on contact with enough virus particles. Some evidence that the more particles, the more severe the coming illness will be.
Becoming infectious. Not certain for covid-19. Initial reports suggest people are infectious for 1 to 3 days before symptoms of illness appear. Important consideration for isolating contacts immediately.
Becoming ill. Average 5 days from first infection. Can be between 2 and 14 days. Some people do not become ill, but remain unknowingly infectious.
Duration of illness. Mild/moderate illness, typically up to 10 days. Severe illness, up to 6 weeks.
Production of antibodies. These can be detected 5-10 days after illness starts.
Duration of infectivity. The viable virus can persist for 7–12 days in mild and moderate cases, and up to 2 weeks in severe cases
For symptom-free cases, the duration is not known but the public health assumption (with respect to quarantine following tracing) is that by 14 days from the infection date, infectivity will have stopped.


"Viral shedding" (e.g. in faeces) can last for a month or more, but there is no evidence (yet) that these late shed virus particles are viable.


UK Hospital "all clear". Hospitalised patients are given the "all clear" following 4 consecutive negative tests, each 1 day apart.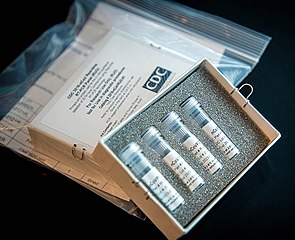 Covid-19 tests
PCR Testing for active (or very recent) infection
Using real-time reverse transcription polymerase chain reaction (rRT-PCR) the test (done in a laboratory) can be done on respiratory samples obtained by various methods, including nasopharyngeal swab or sputum sample. Results are generally available within a few hours to 2 days.
The RT-PCR test performed with throat swabs is only reliable in the first week of the disease. Later on, the virus can disappear from the throat while it continues to thrive in the lungs.
For infected people tested in the second week, sample material can then be taken from the deep airways by suction catheter, or coughed up material (sputum) can be used.
This test has around 90% sensitivity and 90% selectivity. (i.e. there are 10% false positives, and 10% false negatives.)

Rapid antigen detecting test
One type of rapid diagnostic test (RDT) detects the presence of viral proteins (antigens) expressed by the COVID-19 virus in a sample from the respiratory tract of a person. If the target antigen is present in sufficient concentrations in the sample, it will bind to specific antibodies fixed to a paper strip enclosed in a plastic casing and generate a visually detectable signal, typically within 30 minutes (no laboratory needed).
The antigen(s) detected are expressed only when the virus is actively replicating; therefore, such tests are best used to identify acute or early infection. WHO does not currently recommend the use of antigen-detecting rapid diagnostic tests for patient care, due to the low sensitivity of 34 - 80%.

Immunological testing for antibodies
Antibodies to covid tend to be produced in the second week of infection. This test will be vital to determine who has had the disease and may be immune, for public health and economy reasons. Also it will be critical to support
the development of vaccines,
to add to our understanding of the extent of infection among people who are not identified through active case finding and surveillance efforts,
the attack rate in the population,
and the infection fatality rate.
However, most covid serology tests are in the research stage of development. One test released by Roche in mid-May 2020, which requires a blood sample drawn fom a vein, is claimed to have a 100% sensitivity and 99.8% selectivity.
We do not yet know if presence of anitbodies signifies immunity, and if so for how long, or how strongly. Nor do we know if it is possible for immune people to be carriers.