Viruses
Reference

Introduction

A virus is a small infectious agent that can only replicate inside the cells of another organism. Viruses are too small to be seen directly with a light microscope. Viruses infect all types of organisms, animals, plants, they can even infect bacteria.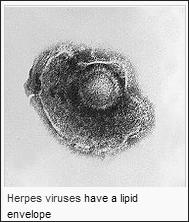 About 5,000 viruses have been described in detail, although there are millions of different types. Viruses are the most abundant type of biological entity. The study of viruses is known as virology, a sub-specialty of microbiology.

Viruses consist of two or three parts: all viruses have genes made from either DNA or RNA (Coronaviruses are RNA), which are long molecules that carry genetic information; all have a protein coat that protects these genes; and some have an envelope of fat that surrounds them when they are outside a cell. Most viruses are about one hundred times smaller than an average bacterium.

Viruses spread in many ways; plant viruses are often transmitted from plant to plant by insects that feed on sap, such as aphids, while animal viruses can be carried by blood-sucking insects. These disease-bearing organisms are known as vectors.

Influenza and Corona viruses are spread by coughing and sneezing. The norovirus and rotavirus (picture below), common causes of viral gastroenteritis, are transmitted by the faecal-oral route and are passed from person to person by contact, entering the body in food or water. HIV is one of several viruses transmitted through sexual contact or by exposure to infected blood.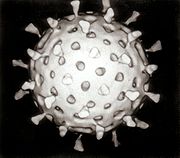 Viral infections in animals provoke an immune response that usually eliminates the infecting virus. These immune responses can also be produced by vaccines, which give immunity to specific viral infections. However, some viruses including HIV and those causing viral hepatitis evade these immune responses and cause chronic infections.

Antibiotics have no effect on viruses, but a few antiviral drugs have been developed. However, there are relatively few antivirals because there are very few targets on a virus for these drugs to interfere with. This is because a virus reprograms its host's cells to make new viruses and almost all the proteins used in this process are normal parts of the body, with only a few viral proteins.


Viral Replication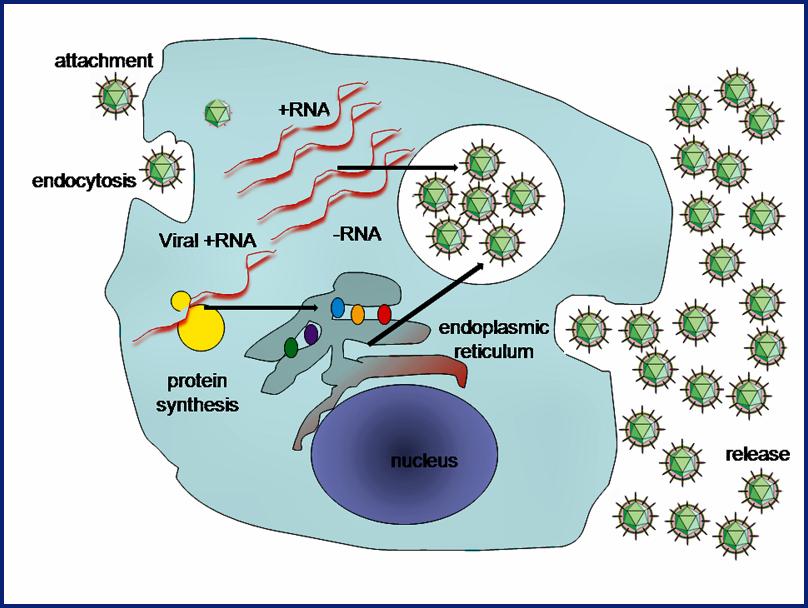 Viral populations do not grow through cell division, because they are acellular; instead, they use the machinery and metabolism of a host cell to produce multiple copies of themselves, and they assemble in the cell.

The life cycle of viruses differs greatly between species but there are six basic stages in the life cycle of viruses:. Click the image on the right to enlarge it.

Attachment is a specific binding between viral capsid proteins and specific receptors on the host cellular surface. This specificity determines the host range of a virus. For example, HIV infects only human T cells, because its surface protein, gp120, can interact with CD4 and receptors on the T cell's surface. This mechanism has evolved to favour those viruses that only infect cells in which they are capable of replication. Attachment to the receptor can induce the viral-envelope protein to undergo changes that results in the fusion of viral and cellular membranes.

Penetration follows attachment; viruses enter the host cell through receptor mediated endocytosis or membrane fusion. This is often called viral entry. The infection of plant cells is different from that of animal cells. Plants have a rigid cell wall made of cellulose and viruses can only get inside the cells after trauma to the cell wall. Viruses such as tobacco mosaic virus can also move directly in plants, from cell to cell, through pores called plasmodesmata. Bacteria, like plants, have strong cell walls that a virus must breach to infect the cell. Some viruses have evolved mechanisms that inject their genome into the bacterial cell while the viral capsid remains outside.

Uncoating is a process in which the viral capsid is degraded by viral enzymes or host enzymes thus releasing the viral genomic nucleic acid.

Replication involves synthesis of viral messenger RNA (mRNA) for viruses except positive sense RNA viruses (see above), viral protein synthesis and assembly of viral proteins and viral genome replication.

Modification of the viral proteins often occurs following the assembly of the virus particles. In viruses such as HIV, this modification (sometimes called maturation) occurs after the virus has been released from the host cell.

Viruses are released from the host cell by lysis—a process that kills the cell by bursting its membrane. Enveloped viruses (e.g., HIV) typically are released from the host cell by budding. During this process the virus acquires its envelope, which is a modified piece of the host's plasma membrane.


Types of virus

DNA viruses
The genome replication of most DNA viruses takes place in the cell's nucleus. If the cell has the appropriate receptor on its surface, these viruses enter the cell by fusion with the cell membrane or by endocytosis. Most DNA viruses are entirely dependent on the host cell's DNA and RNA synthesising machinery, and RNA processing machinery. The viral genome must cross the cell's nuclear membrane to access this machinery. Examples: Herpes, Chicken pox.

RNA viruses
These viruses are unique because their genetic information is encoded in RNA. Replication usually takes place in the cytoplasm. RNA viruses can be placed into about four different groups depending on their modes of replication. The polarity (whether or not it can be used directly to make proteins) of the RNA largely determines the replicative mechanism, and whether the genetic material is single-stranded or double-stranded. RNA viruses use their own RNA replicase enzymes to create copies of their genomes. Examples: Coronavirus, Influenza.

Reverse transcribing viruses
These replicate using reverse transcription, which is the formation of DNA from an RNA template. Reverse transcribing viruses containing RNA genomes use a DNA intermediate to replicate, whereas those containing DNA genomes use an RNA intermediate during genome replication. Both types use the reverse transcriptase enzyme to carry out the nucleic acid conversion. Retroviruses often integrate the DNA produced by reverse transcription into the host genome. They are susceptible to antiviral drugs that inhibit the reverse transcriptase enzyme, e.g. zidovudine and lamivudine. An example of the first type is HIV, which is a retrovirus. Examples of the second type are the Hepadnaviridae, which includes Hepatitis B virus.

Effects on the host cell
The range of structural and biochemical effects that viruses have on the host cell is extensive. These are called cytopathic effects. Most virus infections eventually result in the death of the host cell. The causes of death include cell lysis, alterations to the cell's surface membrane and apoptosis. Often cell death is caused by cessation of its normal activities because of suppression by virus-specific proteins, not all of which are components of the virus particle.
Some viruses cause no apparent changes to the infected cell. Cells in which the virus is latent and inactive show few signs of infection and often function normally. This causes persistent infections and the virus is often dormant for many months or years. This is often the case with herpes viruses. Some viruses, such as Epstein-Barr virus, can cause cells to proliferate without causing malignancy, while others, such as papillomaviruses, are established causes of cancer.
Cross-species transmission
Every species has a large set of commensal viruses, that have evolved in parallel with the plant or animal. These often cause little harm, and indeed may benefit the host by killing pathogenic bacteria. Problems can arise however when the virus jumps from the species it evolved with to a different one. E.g. bats are almost unaffected by Covid19 coronavirus, as they have evolved in step with each other. But when the virus jumped from bats to humans in 2019, it proved deadly to humans. Other cross-species infections include SARS coronavirus (CoV), hantaviruses, Ebola and Marburg viruses, Nipah virus, Hendra virus, and human immunodeficiency virus type 1 (HIV-1) and HIV-2,


Viruses and human disease

Examples of common human diseases caused by viruses include the common cold, influenza, chickenpox and cold sores. Many serious diseases such as ebola, AIDS, avian influenza and SARS are caused by viruses. The relative ability of viruses to cause disease is described in terms of virulence. Other diseases are under investigation as to whether they too have a virus as the causative agent, such as the possible connection between human herpes virus six (HHV6) and neurological diseases such as multiple sclerosis and chronic fatigue syndrome. There is controversy over whether the borna virus, previously thought to cause neurological diseases in horses, could be responsible for psychiatric illnesses in humans.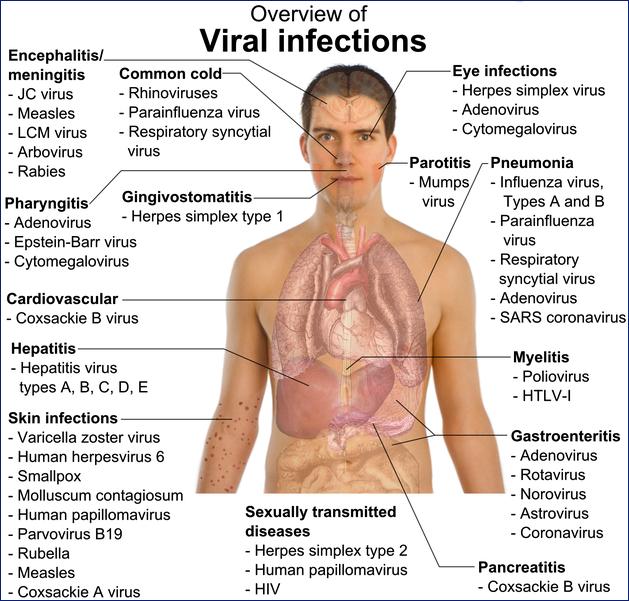 Viruses have different mechanisms by which they produce disease in an organism, which largely depends on the viral species. Mechanisms at the cellular level primarily include cell lysis, the breaking open and subsequent death of the cell. In multicellular organisms, if enough cells die the whole organism will start to suffer the effects. Although viruses cause disruption of healthy homeostasis, resulting in disease, they may exist relatively harmlessly within an organism. An example would include the ability of the herpes simplex virus, which causes cold sores, to remain in a dormant state within the human body. This is called latency and is a characteristic of the all herpes viruses including the Epstein-Barr virus, which causes glandular fever, and the varicella zoster virus, which causes chickenpox.

Most people have been infected with at least one of these types of herpes virus. However, these latent viruses might sometimes be beneficial, as the presence of the virus can increase immunity against bacterial pathogens, such as Yersinia pestis. On the other hand, latent chickenpox infections return in later life as the disease called shingles.

Some viruses can cause life-long or chronic infections, where the viruses continue to replicate in the body despite the host's defence mechanisms. This is common in hepatitis B virus and hepatitis C virus infections. People chronically infected are known as carriers, as they serve as reservoirs of infectious virus. In populations with a high proportion of carriers, the disease is said to be endemic. In contrast to acute lytic viral infections this persistence implies compatible interactions with the host organism. Persistent viruses may even broaden the evolutionary potential of host species.

Epidemics and pandemics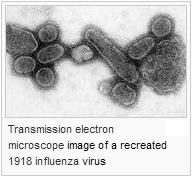 Native American populations were devastated by contagious diseases, particularly smallpox, brought to the Americas by European colonists. It is unclear how many Native Americans were killed by foreign diseases after the arrival of Columbus in the Americas, but the numbers have been estimated to be close to 70% of the indigenous population. The damage done by this disease significantly aided European attempts to displace and conquer the native population.

A pandemic is a worldwide epidemic. The 1918 flu pandemic, commonly referred to as the Spanish flu, was a category 5 influenza pandemic caused by an unusually severe and deadly influenza A virus. The victims were often healthy young adults, in contrast to most influenza outbreaks, which predominantly affect juvenile, elderly, or otherwise weakened patients.

The Spanish flu pandemic lasted from 1918 to 1919. Older estimates say it killed 40–50 million people, while more recent research suggests that it may have killed as many as 100 million people, or 5% of the world's population in 1918. Most researchers believe that HIV originated in sub-Saharan Africa during the twentieth century; it is now a pandemic, with an estimated 38.6 million people now living with the disease worldwide. The Joint United Nations Programme on HIV/AIDS (UNAIDS) and the World Health Organization (WHO) estimate that AIDS has killed more than 25 million people since it was first recognised on June 5, 1981, making it one of the most destructive epidemics in recorded history. In 2007 there were 2.7 million new HIV infections and 2 million HIV-related deaths.

Several highly lethal viral pathogens are members of the Filoviridae. Filoviruses are filament-like viruses that cause viral hemorrhagic fever, and include the ebola and marburg viruses. The Marburg virus attracted widespread press attention in April 2005 for an outbreak in Angola. Beginning in October 2004 and continuing into 2005, the outbreak was the world's worst epidemic of any kind of viral hemorrhagic fever.
A related coronavirus emerged in Wuhan, China in November 2019 and spread rapidly around the world. Thought to have originated in bats and subsequently named severe acute respiratory syndrome coronavirus 2 (SARS-CoV2), infections with the virus caused a pandemic in 2020. Measures to curtail the impact of the pandemic were hampered by fear and prejudice and the stigmatisation of infected people. Unprecedented restrictions in peacetime were placed on international travel, and curfews imposed in several major cities worldwide.


Cancer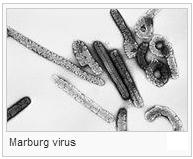 Viruses are an established cause of cancer in humans and other species. Viral cancers only occur in a minority of infected persons (or animals). Cancer viruses come from a range of virus families, including both RNA and DNA viruses, and so there is no single type of "oncovirus" (an obsolete term originally used for acutely transforming retroviruses). The development of cancer is determined by a variety of factors such as host immunity and mutations in the host. Viruses accepted to cause human cancers include some genotypes of human papillomavirus, hepatitis B virus, hepatitis C virus, Epstein-Barr virus, Kaposi's sarcoma-associated herpesvirus and human T-lymphotropic virus.

The most recently discovered human cancer virus is a polyomavirus (Merkel cell polyomavirus) that causes most cases of a rare form of skin cancer called Merkel cell carcinoma. Hepatitis viruses can develop into a chronic viral infection that leads to liver cancer. Infection by human T-lymphotropic virus can lead to tropical spastic paraparesis and adult T-cell leukemia.

Human papillomaviruses are an established cause of cancers of cervix, skin, anus, and penis. Within the Herpesviridae, Kaposi's sarcoma-associated herpesvirus causes Kaposi's sarcoma and body cavity lymphoma, and Epstein–Barr virus causes Burkitt's lymphoma, Hodgkin's lymphoma, B lymphoproliferative disorder and nasopharyngeal carcinoma. Merkel cell polyomavirus closely related to SV40 and mouse polyomaviruses that have been used as animal models for cancer viruses for over 50 years.


Host defence mechanisms

The body's first line of defence against viruses is the innate immune system. This comprises cells and other mechanisms that defend the host from infection in a non-specific manner. This means that the cells of the innate system recognise, and respond to, pathogens in a generic way, but unlike the adaptive immune system, it does not confer long-lasting or protective immunity to the host.

RNA interference is an important innate defence against viruses. Many viruses have a replication strategy that involves double-stranded RNA (dsRNA). When such a virus infects a cell, it releases its RNA molecule or molecules, which immediately bind to a protein complex called dicer that cuts the RNA into smaller pieces. A biochemical pathway called the RISC complex is activated, which degrades the viral mRNA and the cell survives the infection. Rotaviruses avoid this mechanism by not uncoating fully inside the cell and by releasing newly produced mRNA through pores in the particle's inner capsid. The genomic dsRNA remains protected inside the core of the virion.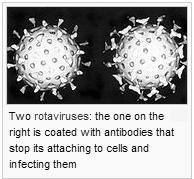 When the adaptive immune system encounters a virus, it produces specific antibodies that bind to the virus and render it non-infectious. This is called humoral immunity. Two types of antibodies are important. The first called IgM is highly effective at neutralizing viruses but is only produced by the cells of the immune system for a few weeks. The second, called, IgG is produced indefinitely. The presence of IgM in the blood of the host is used to test for acute infection, whereas IgG indicates an infection sometime in the past. IgG antibody is measured when tests for immunity are carried out.

A second defence against viruses is called cell-mediated immunity and involves immune cells known as T cells. The body's cells constantly display short fragments of their proteins on the cell's surface, and if a T cell recognises a suspicious viral fragment there, the host cell is destroyed by killer T cells and the virus-specific T-cells proliferate. Cells such as the macrophage are specialists at this antigen presentation. The production of interferon is an important host defence mechanism. This is a hormone produced by the body when viruses are present. Its role in immunity is complex, but it eventually stops the viruses from reproducing by killing the infected cell and its close neighbours.

Not all virus infections produce a protective immune response in this way. HIV evades the immune system by constantly changing the amino acid sequence of the proteins on the surface of the virion. These persistent viruses evade immune control by sequestration, blockade of antigen presentation, cytokine resistance, evasion of natural killer cell activities, escape from apoptosis, and antigenic shift. Other viruses, called neurotropic viruses, are disseminated by neural spread where the immune system may be unable to reach them.



Prevention and treatment

Because viruses use vital metabolic pathways within host cells to replicate, they are difficult to eliminate without using drugs that cause toxic effects to host cells in general. The most effective medical approaches to viral diseases are vaccinations to provide preventative immunity to infection, and antiviral drugs that selectively interfere with viral replication.



Vaccines
Vaccination is a cheap and effective way of preventing infections by viruses. Vaccines were used to prevent viral infections long before the discovery of the actual viruses. Their use has resulted in a dramatic decline in morbidity (illness) and mortality (death) associated with viral infections such as polio, measles, mumps and rubella. Smallpox infections have been eradicated. Vaccines are available to prevent over thirteen viral infections of humans, and more are used to prevent viral infections of animals.

Vaccines can consist of live-attenuated or killed viruses, or viral proteins (antigens). Live vaccines contain weakened forms of the virus that causes the disease. Such viruses are called attenuated. Live vaccines can be dangerous when given to people with a weak immunity, (who are described as immunocompromised), because in these people, the weakened virus can cause the original disease.

Biotechnology and genetic engineering techniques are used to produce subunit vaccines. These vaccines use only the capsid proteins of the virus. Hepatitis B vaccine is an example of this type of vaccine. Subunit vaccines are safe for immunocompromised patients because they cannot cause the disease. The yellow fever virus vaccine, a live-attenuated strain called 17D, is probably the safest and most effective vaccine ever generated.

Antiviral drugs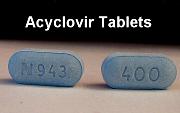 Over the past twenty years, the development of antiviral drugs has increased rapidly. This has been driven by the AIDS pandemic. Antiviral drugs are often nucleoside analogues, (fake DNA building blocks), which viruses incorporate into their genomes during replication. The life-cycle of the virus is then halted because the newly synthesised DNA is inactive. This is because these analogues lack the hydroxyl groups, which, along with phosphorus atoms, link together to form the strong "backbone" of the DNA molecule. This is called DNA chain termination.

Examples of nucleoside analogues are aciclovir for Herpes simplex virus infections and lamivudine for HIV and Hepatitis B virus infections. Aciclovir is one of the oldest and most frequently prescribed antiviral drugs. Other antiviral drugs in use target different stages of the viral life cycle. HIV is dependent on a proteolytic enzyme called the HIV-1 protease for it to become fully infectious. There is a large class of drugs called protease inhibitors that inactivate this enzyme.

Hepatitis C is caused by an RNA virus. In 80% of people infected, the disease is chronic, and without treatment, they are infected for the remainder of their lives. However, there is now an effective treatment that uses the nucleoside analogue drug ribavirin combined with interferon. The treatment of chronic carriers of the hepatitis B virus by using a similar strategy using lamivudine has been developed