Indirect Restorations
Metal-Ceramic (PFM) Crown Prep. Upper 1st Premolar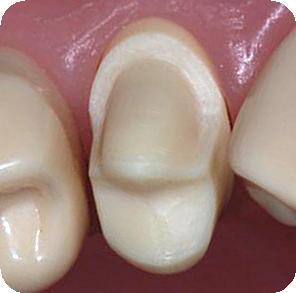 Metal-ceramic crowns are also known as "Porcelain Fused to Metal" (PFM) crowns. Where porcelain is needed, extra reduction must be undertaken to make room for both metal and ceramic.

In places where porcelain is not needed, for example the palatal margin, less reduction is done.

Slide show: Metal-Ceramic Crown Prep. Upper 4.

Why should you avoid sharp angles when preparing a crown?
What is "convergence" in this context?
What is the ideal convergence angle. And what is clinically achievable and acceptable?
What are the problems of over-tapered and under-tapered preparations?