Direct Restorations
Dentsply SDR - Self assessment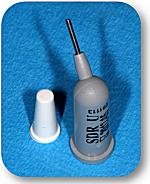 Before using any new restorative material, it is a good idea to familiarise oneself with its properties, so that the dentist can make an appropriate and informed choice for each individual clinical situation.

This page presents information on SDR as a series of short answer questions, with answers.


Basic Properties (as released by Dentsply)
• Compressive strength: 242 MPa
• Flexural strength: 115Mpa
• Filler: 68% filled by weight, 45% filled by volume
• Fluoride release: Yes
• Polymerisation shrinkage: 3.5% volume.
• Polymerisation shrinkage stress: 1.5 MPa
• Shelf-life: 2.5 years.

1. Which releases more Fluoride – Glass Ionomer or SDR?
2. How much is a mega-pascal (1 Mpa)?
3. At worst, what is the typical bond strength to dentine when dealing with non-tubular (sclerotic) dentine?
4. True or false? SDR can be used for:
Class V cavities
Complete restoration of deciduous teeth
Dentine replacement in Class I and II cavities
Dentine replacement in Class III and IV cavities
As a liner under direct restorative materials.
5. True or false? High polymerisation stress can result in
Post-operative sensitivity
Micro cracks within the filling and the tooth
Periodontal ligament breakdown
Retention loss (loss of filling)
Secondary caries
6. Can SDR be used underneath all methacrylate-based composites?
7. Can SDR be used with all methacrylate-based dentine bonding systems?
8. True or false?
What determines the final shade of a restoration when SDR is used as a bulk filler under a conventional (capping) composite?
The SDR shade chosen.
The shade of the capping composite
The opacity/translucency of the capping composite
The thickness of the capping composite
9. What is the main advantage of using a flowable composite lining under an aesthetic posterior restoration?
10. What are the two main disadvantages of conventional flowables compared to SDR?
11. What is the curing time for SDR?
12. What light output is required to cure SDR?